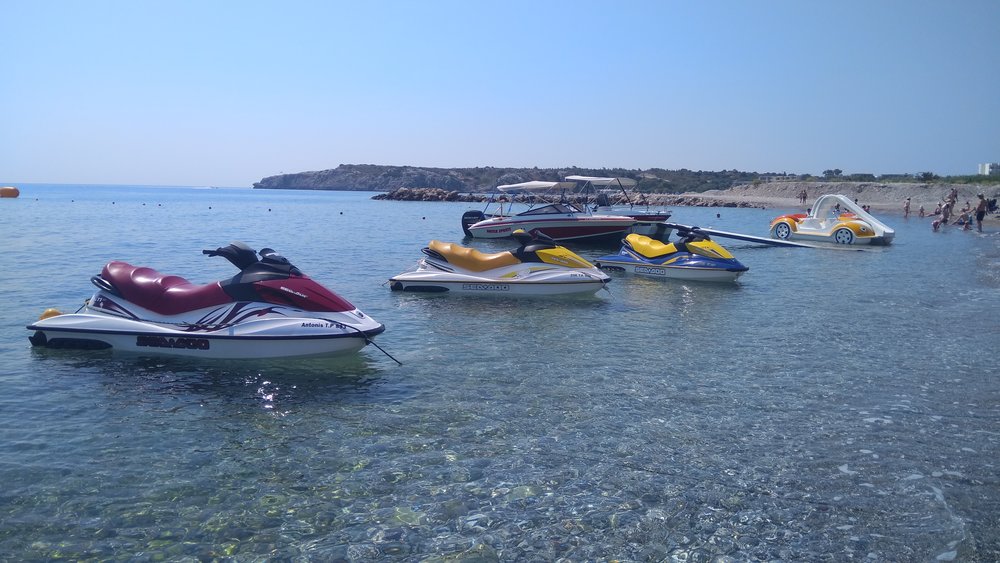 Take a ride on our Sea-Doo 130HP GTI jetski and feel the speed. The craft is rented for one or two persons only. We have created an area where you can enjoy to the full speed and joy of riding jet skis. Maximum 2 jet skis can be rented at the same time. Please note that there are strict safety rules that need to be applied to the usage of jet skis especially in beach areas where the safety of swimmers and other watersport users, must be considered. If you have no previous exprerience with driving jet ski we will give you all safety instructions. Jet ski can be hired only by person older than 18 years.
SAFETY EQUIPMENT INCLUDED
DRIVING INSTRUCTIONS AND TIPS PROVIDED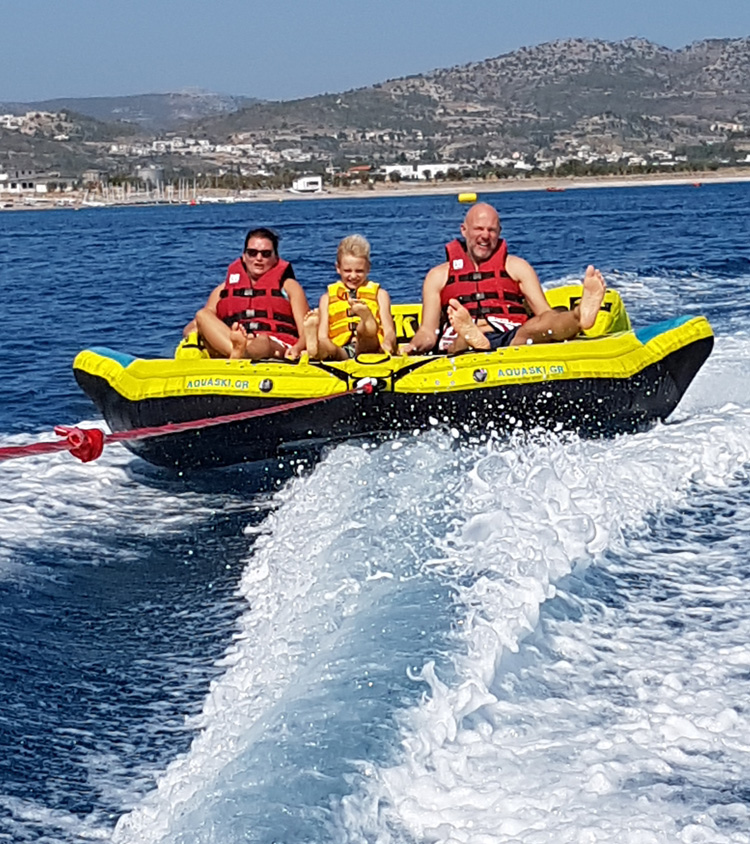 Inflatable water sofas are one of the most popular waterspors attractions worldwide. And here is the reason for it, It is suitable for all age groups, you don't need any experience, it doesn't turn over, if you follow our instructions it is safe and most of all it is FUN, FUN and FUN. We will help you to choose which sofa is the best for you, according your requirement and sea conditions and our experienced drivers make sure, that they will give you the best ride of your live.
SAFETY EQUIPMENT INCLUDED
15€ / person
* 2-8 passengers
Solo X, Sliders and Flyers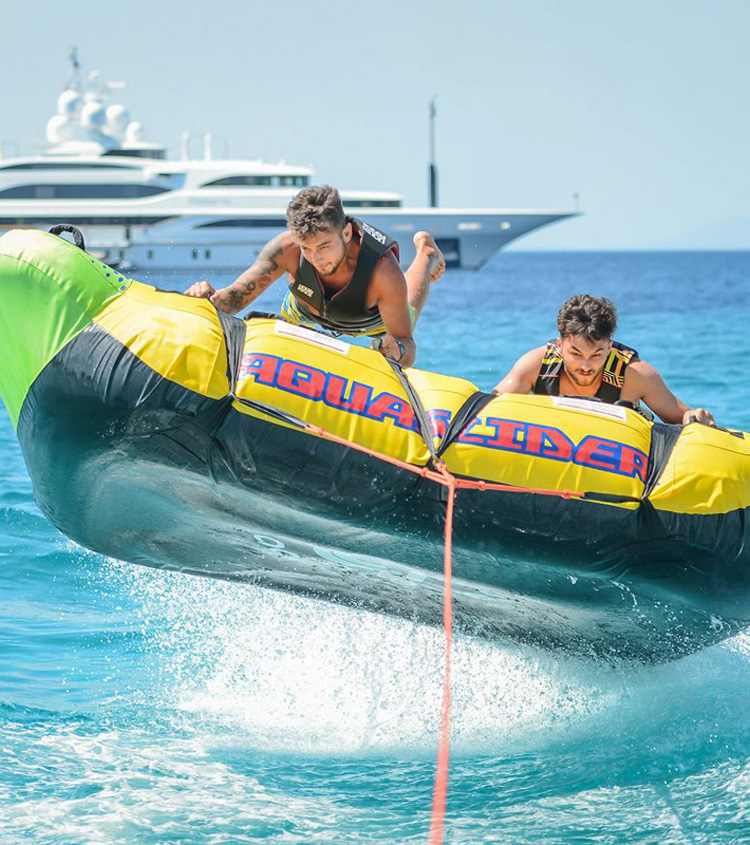 Looks like sofa, also inflatable water toy. But those little guys are another kind of animals. Do they turn over? Yes. Is it fast? Yes. Is is fun? Yes, Yes ans YES. Will you fall of? Try not to! Make a bet, who will stay on longer.
SAFETY EQUIPMENT INCLUDED
15€ / person
* 2-4 passengers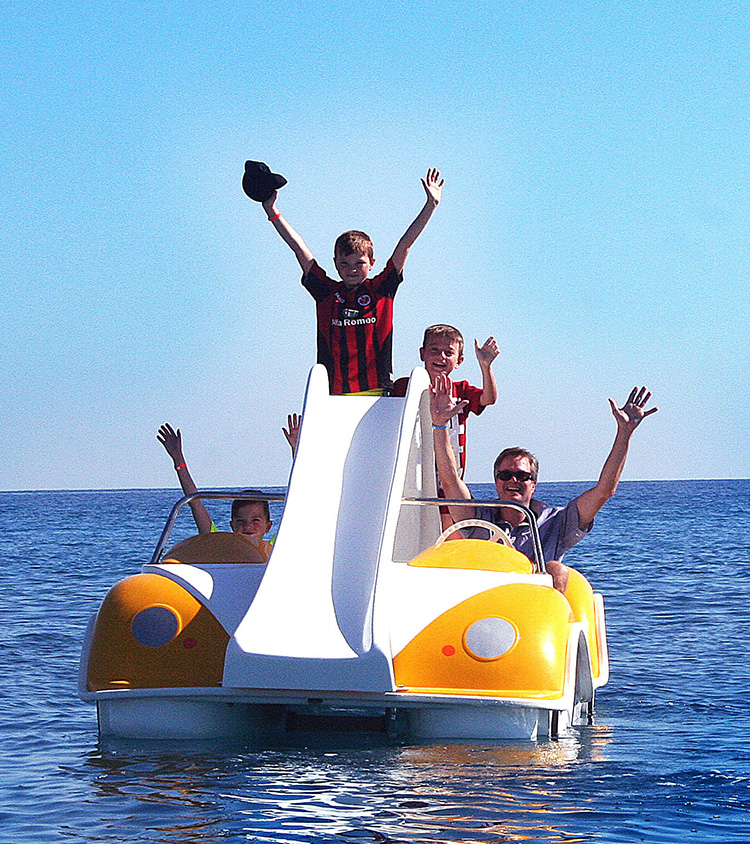 Our custom made pedal boats are perfect way how to spend time with you family or friends on the water. They have a boarding ladder, so after sliding in the water it is easy to climb back on board. They can carry up to 4 persons or 5 if kids are included.
SAFETY EQUIPMENT INCLUDED
DRIVING INSTRUCTIONS AND TIPS PROVIDED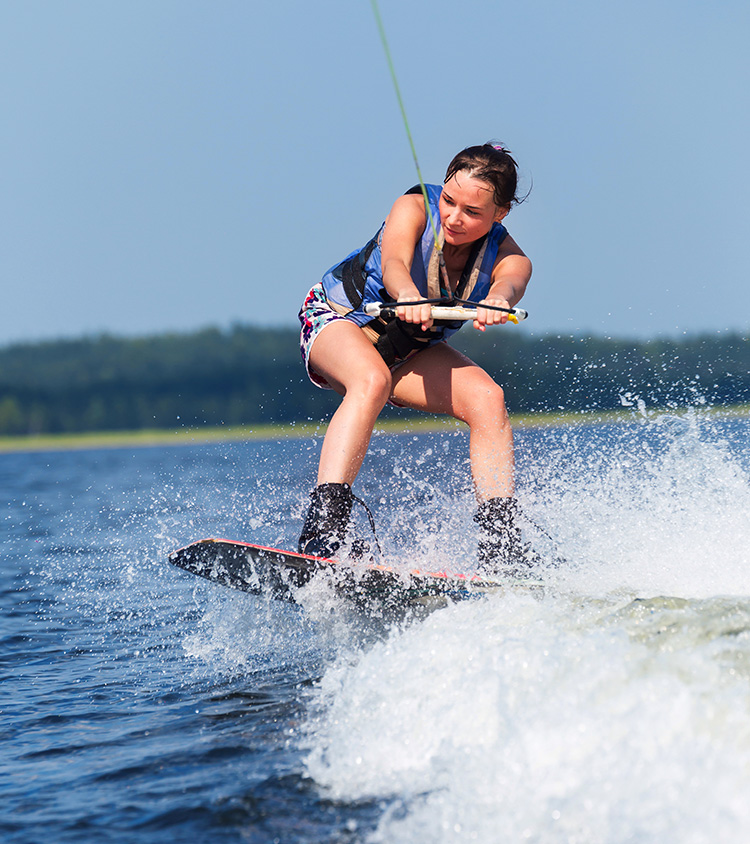 Why not lo learn something new while on holidays? Waterskiing and wakebarding is a great way how to improve your physical condition an also get some endorphin level up. Beginner or PRO, we are here for you.
SAFETY EQUIPMENT INCLUDED
Lessons for the beginners are provided only if the sea conditions are good for it. After completing step by step training on land you will get your first try in the water. There you will learn how to get up on the ski behind the boat and finish your first round. In the end the trainer will give you some tips for your next training. If you are determined to learn waterskiing or wakeboarding do not leave it for the last day of your stay. Remember practice makes perfect :)
Waterski and wakeboard ride is 10-15 minutes or 2 complete rounds in our restricted area.


If you can't manage to stand up in 4 tries, we refund you the money and you can come next time.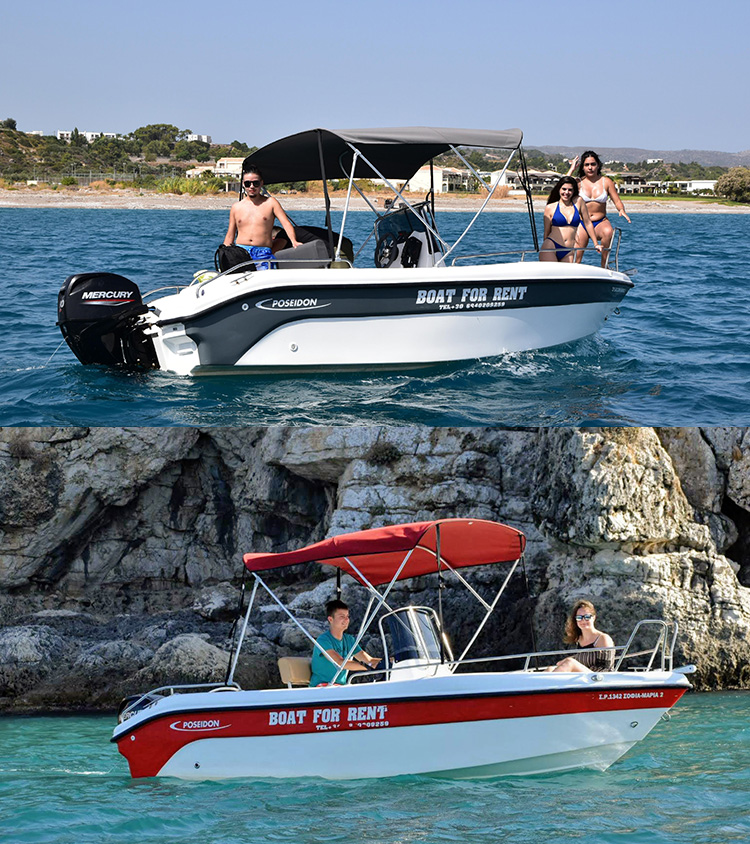 Step by step we will lead you through driving and safety instructions. Before you leave we will make sure that you are well-versed in operating the vessel. Boats are equipped with GPS locators and mobile phones. All the safety equipment and insurance meet the requirements of Greek Port Police. Our boats are shaded, have a boarding ladder, cooling box and anchor. According to the time which you rent the boat for we will give you some tips for your trip. From our spot you can easily access some of the most famous and beautiful beaches on the Eastcoast of Rhodes.
SAFETY EQUIPMENT INCLUDED
DRIVING INSTRUCTIONS AND TIPS PROVIDED
NO LICENSE OR PREVIOUS EXPERIENCE REQUIRED
All Day (10:00-17:00)
280€